Executive Committee
Alicia Charleston, Benin 2008-2010, President
Alicia served as a Small Enterprise Development Volunteer working with the Artisans Coalition of Natitingou. She took on secondary projects with student groups that worked to educate their peers on relevant health issues like malaria prevention and treatment, hygiene, and sexual health. Upon returning to the states, Alicia obtained her Masters in Public Health from Boston University. She currently works as an epidemiologist at the Massachusetts Department of Public Health. Alicia joined the board in September 2014.
Shane Runquist, Mexico 2008-2010, Vice President
Shane served as a GIS and Knowledge Management Specialist in the Mexican government agency responsible for natural resource management in the states of Querétaro and Puebla. He made process improvements in forestry data management, provided training in GIS and GPS usage, and performed satellite imagery analysis to detect forest loss over time. Prior to his Peace Corps service, Shane worked as an embedded software engineer and manager at Garmin International. Following his service, moved to Boston to work as a software engineer at the MITRE Corporation, primarily in mobile software security, and now works as a software developer for DataStax, Inc.
Stacie Constantian, Ecuador 20011-2013, Treasurer
Stacie served as an Agriculture and Microfinance volunteer in San Francisco del Congo. She co-founded a series of community banks that enabled several dozen members and their families to receive access to capital in the form of short-term micro-loans. She also trained a committee of community leaders to continue a long-term savings and lending program using basic principles of accounting. Her secondary projects included teaching youth how to generate income through raising and selling pigs and chickens. She also worked with a women's group of beekeepers through finding outlets to sell honey locally. Stacie moved to Boston in 2013 and received her MPH from Harvard University. She currently works at the Harvard Humanitarian Initiative. Stacie joined the board in February 2017.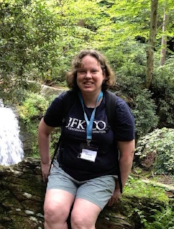 Rebecca Madden-Sturges, Georgia 2005-2007, Secretary
Secretary Rebecca served as a Nonprofit Developer, assigned to both a youth center and a nonprofit named Spektri, in the town of Sagarejo. She wrote a project proposal to reconstruct and re-equip the Regional Hospital's Gynecological Department and received funding for a Women's Information Center from the Peace Corps Small Project's Assistance Program. She also taught English classes to school age children at the youth center and received funding from the Peace Corps Partnership Program for a small computer lab. Prior to the Peace Corps, she received a B.A. from the University of Michigan. She presently works in Medical Imaging at PAREXEL.
Program Chairs
Marta Hodgkins-Sumner, Kosovo 2014-2016, Community Service Chair
Marta served in Kosovo from 2014-2016, teaching English as part of the inaugural class of Peace Corps Volunteers. For her primary project, she taught and developed curriculum for grades 1-9, started her school's first English library collection, and secured a grant for school improvement. She also co-founded Kosovo's first English Spelling Bee, and served on Peace Corps Kosovo's Volunteer Advisory and Gender & Diversity Committees. Prior to Peace Corps, she worked in academic administration in Boston, and as an English teacher in South Korea. She is currently the Director of Membership & Programs at the Massachusetts Nonprofit Network, and is working on a Master's in International and Urban Development from the University of Toronto.
Lynn Arsenault, Vanuatu 2012-2014, Events Chair
Lynn served as an English Literacy Trainer and Teacher in the small island nation of Vanuatu in the South Pacific from 2012 to 2014. In addition to teaching and teacher-training, some of Lynn's secondary projects included helping her village acquire solar energy, networking with international NGOs to obtain special needs equipment for local children, conducting youth leadership workshop, painting two world map mural projects, and the helping the island develop a natural disaster committee on the island to mitigate destruction during cyclones, earthquakes, tsunamis, or other natural disasters. Since returning, Lynn spent a few years teaching in both Boston and Houston, and pursued an MBA in Nonprofit in Nonprofit Leadership. Now, Lynn is the Communications Manager at the United Nations Association of Greater Boston.
Rachael Sabelli, Malawi 2010-2012, Third Goal / Speakers Bureau Chair
Rachael served in Malawi from 2010-2012 as an education volunteer, teaching physics, biology and English literature. For her primary project, she taught and developed curriculum for grades 9-12 and served as the grant writer and logistical coordinator for an eight-day education camp. She also worked with a local village to develop an income-generating activity making soap and peanut oil. She is currently a Monitoring and Evaluation/Strategic Information Technical Consultant for the Tingathe Community Outreach Programme, a pediatric HIV NGO in Malawi, and is working on a Masters in Epidemiology from the London School of Hygiene and Tropical Medicine. Rachael joined the board in January 2018.
Tiffany Jaimes, St. Kitts & Nevis 2009-2011, Membership Chair
Tiffany served as a Youth Development Volunteer in St. Kitts & Nevis, a beautiful dual island Federation in the Eastern Caribbean, from 2009-2011. She worked with local primary schools in her host village of St. Pauls and neighboring Newton Ground, to develop After School Leadership programs for girls in grades 4-6. Additionally she taught an Arts, Crafts, and Culture class at Charles E. Mills Secondary School. So enamored with her host country islands, Tiffany stayed an addition 3 years beyond Peace Corps Service, working in the private sector as the Direct of the Lyn Jeffers School in Nevis. Following her time in the Caribbean, Tiffany relocated to Central America. She split her time teaching ESL between Costa Rica and Honduras, until she made the swift decision to join JetBlue Airways as a flight attendant. Stationed in Boston since April 2015, she is happy to maintain her travel lifestyle while making Boston her new home base.
Jennifer Leigh, Haiti 2002-2004, Webmaster
Jennifer served as an agro-forestry volunteer in the southern department of Haiti from 2002-2004. She worked with a local community group to expand their tree nursery and promote reforestation and erosion control projects. She also helped oversee the setup of the second rural computer center in the country. She focused on training local instructors on basic computer skills and software applications, while also providing technical and teaching support. Jennifer earned a Master in Information Technology from the Harvard Extension School and is currently working at the Harvard Business School as a business and reporting analyst. She joined the board in August 2015.
Michelle Paul, Western Samoa 2012-2014, Photos Chair
Michelle, originally from North Carolina, served as a Rural Literacy Specialist in Western Samoa from 2012- 2014. She worked with primary school students in years 4 through 6, teaching skills such as phonics, letter relationships, and reading skills. She worked with teachers as well to produce sustainable teaching policies that moved them from a teacher-centered lesson plan to a student-centered one. After Peace Corps, Michelle moved to Boston and entered graduate school at BU, studying epidemiology and biostatistics. She's currently working in the disaster relief field through disease surveillance, and regularly volunteers with the Red Cross Disaster Action Team. She joined the BARPCV board in 2015.
Eric J. Roberts, Paraguay 2005-2008, Fundraising Chair
Eric served as an Agroforestry Extension volunteer in Ka'apukumi-Franco Isla, Paraguay from 2005-2008. While in Paraguay, Eric worked with community members to integrate agroforestry and natural resources management techniques into traditional agriculture plots and with school instructors and national and international non-profit organizations to teach conservation biology. He also co-hosted a weekly radio show called Mba'e La Porte Norte, assisted in the development of an ecotourism project, and drank a lot of tereré with Paraguayans in the cool shade of mango trees. Based in Cambridge, MA since 2012, he is an associate at the Consensus Building Institute where he helps groups of government, business, nonprofit and community representatives to collaborate more effectively while developing solutions to social and environmental policy dilemmas at the local, regional, national, and global scales. Eric joined the board in November 2014.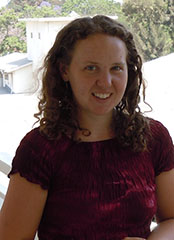 Elise Simons, Zambia 2010-2013, Communications Chair
Elise served as an Agriculture and Environment Volunteer in Zambia. She taught agroforestry, organic gardening, conservation farming, and tree planting to farmers in her village in order to promote better health and nutrition as well as environmental sustainability. She also took on secondary projects in appropriate technology innovation training and HIV/AIDS prevention education. Elise extended for a third year as PCVL, leading workshops and providing volunteer support. Upon returning to Boston, Elise started working at the Product Stewardship Institute as a waste management policy and programs associate. She is currently earning her graduate degree in urban and environmental planning from Tufts University.
Colleen Staatz, Zambia 2007-2010, Community Grants & Speakers Bureau Chair
Colleen served as a health volunteer in northern Zambia. For her first two years, she trained village health committees on a variety of health topics, including water and sanitation; malaria; HIV/AIDS; tuberculosis; child health and nutrition; and reproductive health. She then extended her service for a third year and moved to the capital city, Lusaka, where she worked with Catholic Relief Services on a microfinance project for caregivers of HIV-positive patients. Upon returning from Zambia, Colleen received her Masters in Public Health from Emory University and worked for the Centers for Disease Control and Prevention (CDC) for several years. She now works as a Health Analyst at Mathematica Policy Research in Cambridge, where she works mostly on domestic public health projects. Colleen joined the board in October 2016.
Currently Recruiting
BARPCV is currently recruiting for positions on the board. To nominate yourself or a fellow RPCV to one of these positions or to learn more, please contact info@barpcv.org.